Even though the number of online scams continues to rise across the US and globally, the goal for scammers – to get your personal information and money – largely remains unchanged. However, what is changing is the reality that spotting a scam is getting harder to do.

So, in this article we look at how you can recognise a scam, focusing on some of the most popular ones that are used by scammers, and how you can protect yourself.
Recognising a scam
A good place to start is by asking yourself the following questions. If you answer yes to any of them, there's a good chance someone is trying to scam you.
Is what you are seeing/reading too good to be true?
For example, a holiday that's much cheaper than you'd expect it to be.
Has someone you don't know contacted you unexpectedly?
Do you suspect you're not dealing with a real company?
For example, they don't have a postal address or registered company number.
Have you been asked to transfer money quickly or are you being pressured to make a quick decision?
Have you been asked to pay in an unusual way?
For example, by iTunes vouchers or through a transfer service like MoneyGram or Western Union.
Have you been asked to give away personal information like passwords or PINs?
Have you been asked to keep something a secret?

Let's take a look at number of the above points in more detail:

Is the offer too good to be true?
Scams will often promise high returns for very little financial commitment. They may even say that a deal is too good to miss. Use your common sense, if a deal is too good to be true, it inevitably is.

Has someone contacted you don't know?
It's very unusual for legitimate organisations to contact you and ask for sensitive information if you're not expecting them to.
Cold calls or unexpected emails or messages should raise suspicion, especially if you're asked to give personal or payment details. If you're not totally convinced about the identity of the caller, contact the company directly.
Are you being asked to share personal details?
Don't share your personal details with anyone if you can't confirm they are who they say they are. For example, phone scammers will often try and get valuable personal data from you, so they can use this to steal your money, or use your identity fraudulently.
Are you being asked to keep it secret?
If someone is asking you to keep any agreement (or the like) quiet to keep you away from the advice and support you need in making a decision, then this is a scam.

Are you being pressured to make a decision?
Scammers often try to hurry your decision making. Don't let anyone make you feel under pressure – it's OK to take a break and think things through if you're not sure.
Anyone who tries to rush you should not be trusted.

Are there spelling and grammar mistakes?
Emails or messages that contain a high amount of spelling and grammar mistakes are a scam giveaway. Legitimate organisations will rarely make these mistakes in their emails to you because they've been put together by professionals.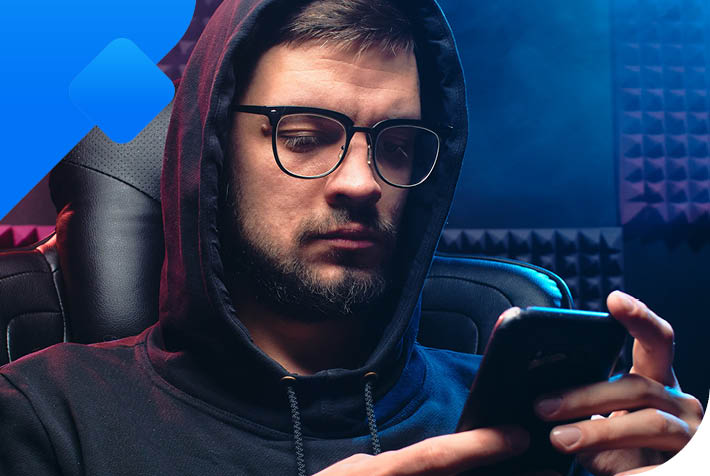 Common types of scams and fraud to be aware of
There are lots of scams that exist online. Below are some of the most popular ones used by scammers.
Phishing, vishing and smishing
Phishing is one of the most popular forms of fraud. It happens when someone tries to access your personal information by sending emails which are often linked to fake websites. Any information you submit through these websites may be used by fraudsters.
Sometimes fraudsters try to get information from you by calling you. This is called vishing.
They may also contact you via SMS, known as smishing. For example, you may be sent a text with a bogus link in, or be asked to reply with personal information to a fraudulent number.
Romance fraud
This happens when you start to develop what you believe is a genuine relationship with someone, only to discover later that they were only interested in your money.
Often romance fraud takes many months, with the victim slowly being groomed by their supposed new partner. The scammer will gradually start to request money, often starting with small sums and then requesting larger sums as time goes on.
Tourist / leisure agent scams
Most holiday and tour operator scams take place online, with criminals setting up fake websites selling flights and holidays.
Often, these mimic legitimate websites of an airline or vacation company, and it's only once you've paid and your tickets don't arrive, that you realise the whole thing is a scam.
Other holiday scams involve fraudsters posting advertisements on trusted booking sites and then encouraging people to pay them directly rather than via the site for a holiday or accommodation that doesn't exist.
Ticket scams
These usually work in a similar way to holiday or leisure agent scams, in that criminals set up fake websites selling tickets for popular events, such as concerts, plays and sporting events.
Once you've paid for your tickets, you're either sent fakes, or they never turn up at all.
Investment scams
You'll be called out of the blue and told about an investment opportunity that you can't afford to miss, but if it looks too good to be true, it almost certainly is. Fraudsters may have purchased your details or found your name on shareholder registers of listed companies, which are publicly available.
You'll usually be asked to invest in shares in a company you've never heard of, but fraudsters also push other investments such as diamonds, or plots of land abroad. The salesperson promises exceptional 'guaranteed' returns.
Victims will be pressurised into making a quick decision, but once the money has been handed over, you'll usually never hear from the person who sold you the supposed investment again.
Courier scam
You'll receive a call from someone pretending to be from your bank or the police. They'll tell you they've spotted some suspicious activity on your account, or that your card needs to be replaced. They may also say that the bank or your local branch are involved in the fraud, to scare you into believing the story and handing over your details. They'll convince you that they're genuine by asking you to call back on the bank or police's real number. However, they'll stay on the line, so you're actually still speaking to them.
You'll be asked for your PIN or details of your accounts. Once you've given these, the fraudster will send a courier to pick up your card, which they'll be able to use because they've now got all your personal information.
Safe account scam
This is similar to the above scam, in so far as you'll usually be contacted by someone saying they are from the bank or the police. They'll tell you that your local bank branch is being investigated and will ask you to transfer your money to a "safe account" they have set up on your behalf. The account will belong to a fraudster.
Mandate or invoice scam
This involves someone pretending to be from an organisation you have a regular payment order with, or a company you make yearly or one-off payments to, and is often a result of scammers intercepting emails between you and the legitimate payee. You'll be sent an email advising you to send the money to new account details, but these details belong to a fraudster, not the genuine company.
Advance fee and lottery scams
With this type of scam, you're asked to make a payment and in return are promised a much larger sum of money or a lottery win, despite the fact you never entered one.
The payment is supposedly to cover administrative or transfer costs, but once it's made, the promised sum never appears.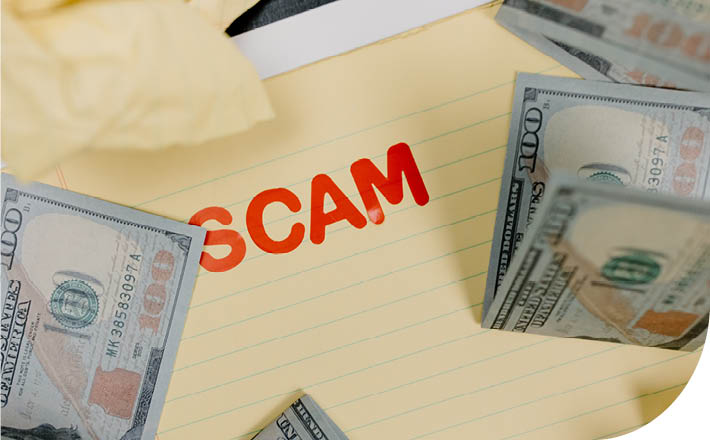 Protecting yourself from online scams
While a scammers delivery methods and messaging can quickly change, a few basic security measures can help protect you:
Keep your devices up to date
It's important to keep your smartphones, tablets, laptops, and desktop PCs up to date to prevent known vulnerabilities from being exploited. Be sure to keep the following important types of software regularly updated:
Operating System (OS)
Web browser and extensions
Third-party apps
Device Protection
Many devices and apps can install updates automatically, but sometimes they'll need a bit of help from the device user, so you'll need to keep an eye on updates in case they stop working.
Check the signs of fake online shops
If you're buying something on a site you haven't used before, spend a few minutes checking it – start by finding its terms and conditions. The company's address should have a street name, not just a post office box number.
Check to see what people have said about the company. It's worth looking for reviews on different websites – don't rely on reviews the company has put on its own website.
Also, don't rely on seeing a padlock in the address bar of your browser – this doesn't guarantee you're buying from a real company.
Don't click on or download anything you don't trust
Don't click on or download anything you don't trust – for example, if you get an email from a company with a strange email address. Doing this could infect your computer with a virus.
Make sure your antivirus software is up to date to give you more protection.
Be careful about giving personal information away
Some scammers try to get your personal information – for example, your National Social Security Number. They can use this information to hack your accounts. If you come across sites that ask for this type of information without an obvious reason, check they're legitimate.
Regularly check to see if your details have been shared online
Sometimes your log-in details can be made publicly available when a website is hacked. This means that someone could use your details in a scam. Check whether your accounts have been put at risk on 'Have I Been Pwned.'
Ensure you make your online accounts secure
Make sure you have a strong password for your email accounts that you don't use anywhere else. If you're worried about remembering lots of different passwords, you can use a password manager.
Some websites let you add a second step when you log in to your account – this is known as 'two-factor authentication.' This makes it harder for scammers to access your accounts.
Pay by credit card
Pay by card to get extra protection if things go wrong.
Make sure you know how your bank operates
Check your bank's website to see how your bank will and won't communicate with you. For example, find out what type of security questions they'll ask if they phone you.
And finally…
Everyone who's online needs to be wary of scams that are trying to steal money from you and also your personal information. Following some basic online safety strategies and reviewing the latest scam alerts can help you stay safe.